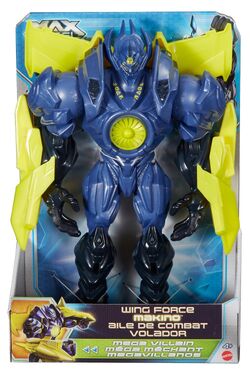 Wing Force Makino
 is an action figure based on
Makino
in his Jet mode. This figure was released in 2014, in the short
Mega-Sized Villain
line.
Description
Curiously, most of Makino's not painted, most of his body is blue and black, with yellow parts, representing the Jet parts that Makino absorbed. Makino is painted in the head, neck, and orb / propulsive, but the figure still have the standard articulation of Makino figures.
Makino is not able to do anything in this toy, but he is a 12-inch figure, while most of toys released on USA are 8-inch.
Trivia
Ad blocker interference detected!
Wikia is a free-to-use site that makes money from advertising. We have a modified experience for viewers using ad blockers

Wikia is not accessible if you've made further modifications. Remove the custom ad blocker rule(s) and the page will load as expected.