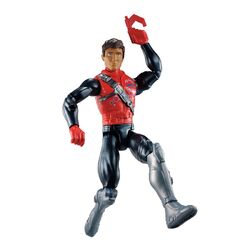 Urban Attack Max Steel
is an action figure based on
the character with the same name
. It was released in 2016, introduced in the second wave of action figures as a part of the
Connect-Tek
toy line.
History
Urban Attack Max Steel vs Mantis Extroyer: Will Max use his pistol with hook to finish off Extroyer's manacing claws?
Description
Max's face have older features. He uses a red jacket decorated with silver poligons and the "MAX" logo with black sleeves, a grey belt, red gloves, black pants and black boots. He also holds a pistol in his right hand. He has twelve points of articulation.
Since he is a basic action figure, he only has a pistol molded in his right hand, but he can carry Connect-Tek weapons with the holes in his forearms, back and legs.
Gallery
Ad blocker interference detected!
Wikia is a free-to-use site that makes money from advertising. We have a modified experience for viewers using ad blockers

Wikia is not accessible if you've made further modifications. Remove the custom ad blocker rule(s) and the page will load as expected.