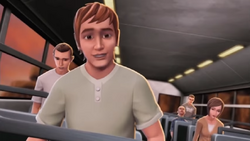 Unknown Copper Canyon Student
is a nameless character who is seen in almost every episodde. He debuted on
Come Together Part One
.
TV Show
He firstly appeared when Butch was bullying Kirby. When Max appeared, he gave the backpack back to Kirby Kowalski, and he (the unnamed student) wasn't seen again.
He is seen again when the Copper Canyon High School was on fire. Later, when Butch was claimed to be hero, he comemorated with him. He later appeared when the bus of Copper Canyon High School was attacked.
Appearance
He has brown chestnut hair, uses a light green t-shirt, brown jeans, and white shoes.
Ad blocker interference detected!
Wikia is a free-to-use site that makes money from advertising. We have a modified experience for viewers using ad blockers

Wikia is not accessible if you've made further modifications. Remove the custom ad blocker rule(s) and the page will load as expected.