This page is dedicated to the word. If you are looking for the race, go to Ultralinks.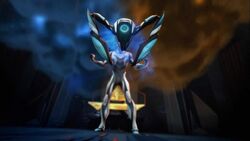 Ultralink
, also known as
Ultralinking
or
Ultralinked
, is a verb that is used in the
Max Steel (2013 TV Series)
. This word is generally used when
Maxwell McGrath
and
Steel
, or something or being, links with an Ultralink, turning into only one. Depending, when
Steel
links with
Max
, they turn into a
Turbo Mode
, but when an
Evil Ultralink
links with a human, or object, it transforms it into a monster, like
Gun Links
(when they link with an object), and
Kirby Link
(when they link with an human or being).
Trivia
Ad blocker interference detected!
Wikia is a free-to-use site that makes money from advertising. We have a modified experience for viewers using ad blockers

Wikia is not accessible if you've made further modifications. Remove the custom ad blocker rule(s) and the page will load as expected.