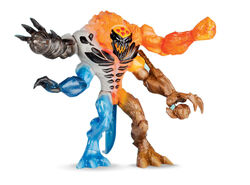 Ultimate Elementor
is an action figure based in the character with the same name. It was originally released in 2013, being exclusive of 
Sam's Club
in Mexico as a part of
Rise of Elementor
, and in 2014, which was only released again in Mexico.
Description
The figure represents Ultimate Elementor was seen in the show. The left arms of the figure are air and water, while the other ones are fire and earth, the torso being fire and air, and legs being water and earth. The figure has twelve points of articulation and comes with three projectiles.
All the four arms have one gimmck. The air arm is able to shoot the tornado which is similiar to a top, and will spin like one, the water arm is able to squirt water, the fire arm is able to launch a projectile with the shape of a hand, and the earth arm is able to launch the rock.
Trivia
The figure was relaunched many times, but it never was available on Brazil, although that the site stated that the figure was going to be available.
Ad blocker interference detected!
Wikia is a free-to-use site that makes money from advertising. We have a modified experience for viewers using ad blockers

Wikia is not accessible if you've made further modifications. Remove the custom ad blocker rule(s) and the page will load as expected.