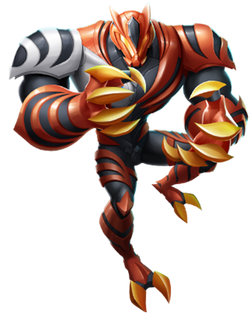 Turbo Tiger Mode
is
La Fiera
's first
Turbo Mode
. With this mode,
La Fiera
's strength increses considerably, just like
Max
's
Turbo Strength Mode
. It debuted on
Max Steel: Team Turbo
.
Origins
Abilities
La Fiera now has access to Turbo Animal Modes when Max powers up La Fiera's Connect-Tek base suit! Watch out for Turbo Tiger Mode! He now has heightened stealth and tracking capabilities since his helmet can sense the smallest sound and detect the tiniest movement. Agile, like a jungle cat, La Fiera can pop out claws and scale any wall, and sit poised, ready to pounce! But this is no quiet kitty! Those claws can slice and dice through enemy lines. La Fiera's tiger mode has an unbridled ferocity, and the harder he fights, the stronger this mode becomes, creating a Tiger Turbine of Turbo might![1]
Gallery
References
Ad blocker interference detected!
Wikia is a free-to-use site that makes money from advertising. We have a modified experience for viewers using ad blockers

Wikia is not accessible if you've made further modifications. Remove the custom ad blocker rule(s) and the page will load as expected.