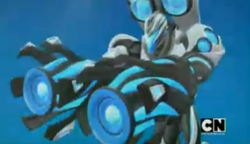 Turbo Sonic Mode
 is one of
Jim McGrath
and
Steel
's
Turbo Modes
. This mode is able to launch ultra sonic waves through two powerful cannons. It first appeared in
Max Steel: The Wrath of Makino
.
Origins
The origins of this Turbo Mode is unknown, but it was used to defeat Makino in Max Steel: The Wrath of Makino.
TV Show
This mode was only seen when Jim McGrath and Steel were launching sonic waves in Makino. This mode was later changed to Turbo Super Punch Mode.
This mode was seen during a short moment, when Max Steel was fusing this mode and Turbo Flight Mode to create Turbo Sonic Flight Mode.
Abilities
Sonic Waves: When the user is using this mode, he counts with two cannons and devices on the back. As seen in The Wrath of Makino, the sonic waves produced are very powerful, even able to take down Makino for some seconds.
Gallery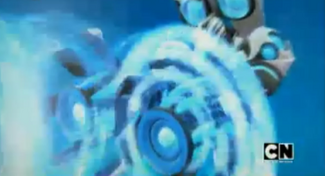 The Gallery of Turbo Sonic Mode can be seen Here.
Ad blocker interference detected!
Wikia is a free-to-use site that makes money from advertising. We have a modified experience for viewers using ad blockers

Wikia is not accessible if you've made further modifications. Remove the custom ad blocker rule(s) and the page will load as expected.