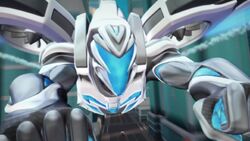 Turbo Sky Stinger Mode
 is one of
Jim
and
Steel
's
Turbo Modes
. It debuted in
The Wrath of Makino
.
History
In order to stop Makino's Turbo Annihilation Mode, Jim and Steel ultralinked again and flew to where Makino was. The duo attempted to defeat him, but they failed and they opted to use Turbo Sonic Mode.
Abilities
Wings: This mode has a pair of wings on his back that allows the user to fly.
Protection: Like all Turbo Modes, it works as a shell for the user, protecting him/her from harm.
Appearance
The appearance of the mode is exactly the same as Jim's Turbo Base Mode, with the exception of the piece attached to his upper torso and wings, which have a propeller attached to them and borders leaking T.U.R.B.O. Energy.
Gallery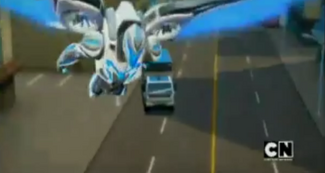 The Gallery of Turbo Sky Stinger Mode can be seen Here.
Trivia
In the Brazilian dub of The Wrath of Makino, the name of this mode was translated to "Turbo Aerial Strike Mode", which is coincidentally the same name as the aerial mode that the classic counterpart of Max used.
Steel mentioned in The Wrath of Makino that they used this mode on a place called Omega-7.
Ad blocker interference detected!
Wikia is a free-to-use site that makes money from advertising. We have a modified experience for viewers using ad blockers

Wikia is not accessible if you've made further modifications. Remove the custom ad blocker rule(s) and the page will load as expected.