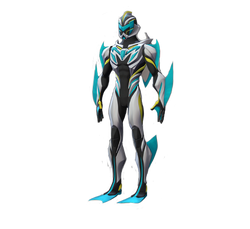 Turbo Scuba Mode is Maxwell McGrath and Steel's fourth Turbo Mode. This mode is able capable of adapting to any aquatic environment, enhancing the ablities of it, when used. It first appeared in Hard Water.
Origins
Max and Steel were looking for clues of the abductions of people, but they had to go underwater, so Steel created this Turbo Mode as an answer to their problems.
Abilities
Enhanced Abilities: When this mode is used underwater, the agility, strength, and speed increases.
Enhanced Armor: When used, Max is able to survive pressure of up to 10,000 pounds per square inch, depths of 40,000+ feet and extreme temperatures of 2* C.
Gallery
The Gallery of Turbo Scuba Mode can be seen Here.
Trivia
.
Ad blocker interference detected!
Wikia is a free-to-use site that makes money from advertising. We have a modified experience for viewers using ad blockers

Wikia is not accessible if you've made further modifications. Remove the custom ad blocker rule(s) and the page will load as expected.