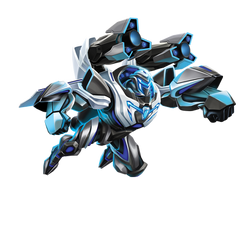 Turbo Rocket Mode
 is
Maxwell McGrath
and
Steel
's tenth
Turbo Mode
. After the
Turbo Nova Mode
, this is one of most powerful modes in
Max Steel
's arsenal, Max and Steel can reconfigure their SteelSuit into Turbo Rocket, which allows them to blast off into high orbital flight. It first appeared in
Makino Strikes: Part Two
.
Origins
During the battle against Makino, Max told Steel a code that Molly previously said to him. The code unlocked a pre-recorded message from his father, more memory files, and especially, the Turbo Rocket Mode, that easly defeated Makino.
Abilities
Cannons: Four incredibly powerful Turbo blasters provide rocket-like propulsion comparable to that of a Space Shuttle. These blasters can also be repositioned to allow Max to use them as Turbo blasters, firing in any direction, including a devastating 360* area attack.
Gallery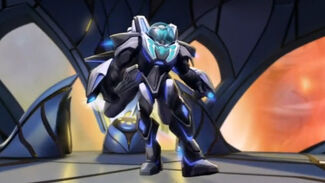 The Gallery of Turbo Rocket Mode can be seen Here.
Trivia
This Turbo Mode is just as or more powerful than than Turbo Strength Mode, because Max was able to actually land some good punches on Makino, and he was able to move an Makino Destroyer, and also managed to take down a huge ship which why his T.U.R.B.O. Energy got all used up.
This mode consumes almost all of Max's T.U.R.B.O Energy.
Turbo Rocket Mode is the third Turbo Mode with the ability of flight. The first being Turbo Flight Mode, Turbo Super Mode being the second, Turbo Nova Mode being the fourth, Turbo Sonic Flight Mode being the fifth and Turbo Prime Mode being the sixth.
Turbo Rocket Mode is the first Turbo Mode best suited for space environments. Turbo Nova Mode being the second.