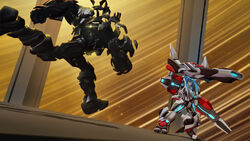 Turbo Nova Mode
 is
Maxwell McGrath
and
Steel
's sixteenth
Turbo Mode
. This mode provides three powerful cannons, two for hands, and one in the top of
Max
's head. It first appeared in
Max Steel: The Wrath of Makino
.
Origins
During the test to take the place of the commander of Ultralinks, Jim McGrath said that he had a new Turbo Mode that would help to win the competition. When he held Steel, he got new memories, and a new Turbo Mode.
TV Show
When dome suddenly appeared, Makino announced a competition that would guarantee a place to command the Ultralinks. To enter in that competition, Jim helped Max Steel to get a new Turbo Mode, later revealed to be the Turbo Nova Mode. During the competition, Max went to one of the tests, consisting in defeat every Makino clone in the way. In the process, Max and Steel separated, but Max easly defeated the clones of Makino, while Steel tried to get more answers. However, when Max won the competition, he touched the helmet of Makino, which turned him into the new host of it.
Later, Max Steel used this mode to go to the sun, where he threw Makino and watched him burn.
Abilities
Superhuman Durability: Since this mode was especially made to explore black holes, the center of a star and the outer reache of space, it is assumed that he is more resistant than other modes.
Cannons: In this mode, Max Steel gets three cannons, two for hands, and one in the top of the head. Those cannons are very powerful and can launch varied bursts of T.U.R.B.O Energy, furthermore, they can be used to fly.
Weaknesses
Gallery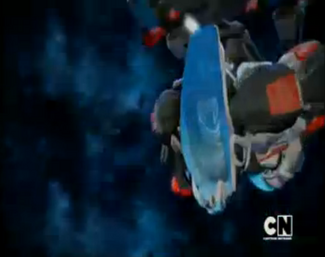 The Gallery of Turbo Nova Mode can be seen Here.
Trivia
Ad blocker interference detected!
Wikia is a free-to-use site that makes money from advertising. We have a modified experience for viewers using ad blockers

Wikia is not accessible if you've made further modifications. Remove the custom ad blocker rule(s) and the page will load as expected.