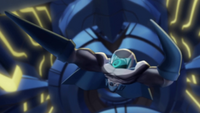 Turbo Mimic Mode is a Turbo Mode that Max and Steel created when trying to escape one of the Ultralink's ship. Mimic Mode allows Steel to create his own versions of Max's Turbo Modes, but at the cost of a huge T.U.R.B.O. Energy drain. Turbo Mimic Mode's first appearance was in The Ultralink Hunter.
Appearances
Mimic mode was first utilized to bust Ven Ghan and Max Steel out of a Makino ship, where Steel mimicked Super Mode, Cannon Mode, and Strength Mode.
Mimic mode (strength) was used once more to keep Extroyer Scorpion from generating new minions by applying intense heat, and extreme pressure.
Modes Copied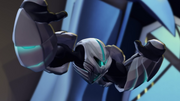 Trivia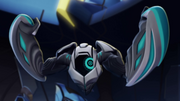 When Steel Mimics Strength or Cannon mode, he gets thumbs.
After three Mimic modes in a row, Max and Steel are locked out of changing modes for a while, which makes no sense, considering the fact that no T.U.R.B.O. Energy should've have only resulted in the loss of the ability to change modes.
Ad blocker interference detected!
Wikia is a free-to-use site that makes money from advertising. We have a modified experience for viewers using ad blockers

Wikia is not accessible if you've made further modifications. Remove the custom ad blocker rule(s) and the page will load as expected.