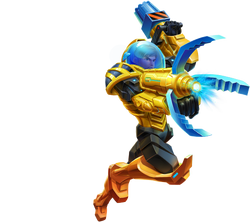 Turbo Hammer Claw Mode
is
Maxwell McGrath
and
Steel
's nineteenth
Turbo Mode
. The mode possesses two powerful weapons connected to Max's forearms and also a resistant armor. It debuted in
Max Steel: Team Turbo
.
Origins
TV Show
After Mortum managed to destroy the Daedelus Platform, Max went to check out the remnants of the ship and used Turbo Hammer Claw Mode in order to tear apart some pieces that were blocking the way.
Abilities
An experimental new mode, Turbo Hammer Claw is designed for heavy hitting and lifting in extreme environments that would tear Max's other modes, included his Strength Mode, to shreds! The hammer delivers earth-shattering strikes that can pulverize even the hardest metals to pieces – pieces that the claw can then drag and toss aside with lightning speed and ease. Turbo Hammer Claw is best suited for search and rescue missions, when Max Steel never knows which of his enemies may be lurking around any corner. [1]
Gallery
The Gallery of Turbo Hammer Claw Mode can be seen Here.
References
Ad blocker interference detected!
Wikia is a free-to-use site that makes money from advertising. We have a modified experience for viewers using ad blockers

Wikia is not accessible if you've made further modifications. Remove the custom ad blocker rule(s) and the page will load as expected.