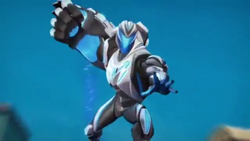 Turbo Gauntlet Mode
 is one of
Jim McGrath
and
Steel
's
Turbo Modes
. It debuted in
The Wrath of Makino
.
History
After Turbo Sonic Mode fails to stop Makino, Jim uses this mode to take him down. Eventually though, this mode was deactivated with a pair of Makino's massive energy spheres.
Abilities
Superhuman Strength: This mode provides enhanced strength, ability that lies in the giant right hand. For instance, Makino was partially damaged.
Appearance
With the exception of the right arm, the armor is the same as Jim's Turbo Base Mode. The right arm has a blue and white shoulder pad with four spheres leaking T.U.R.B.O. Energy, a large gauntlet with four energy spheres and black and white details.
Gallery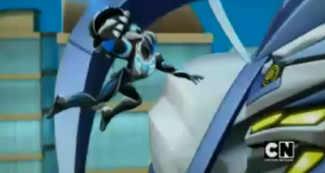 The Gallery of Turbo Gauntlet Mode can be seen Here.
Trivia
Ad blocker interference detected!
Wikia is a free-to-use site that makes money from advertising. We have a modified experience for viewers using ad blockers

Wikia is not accessible if you've made further modifications. Remove the custom ad blocker rule(s) and the page will load as expected.