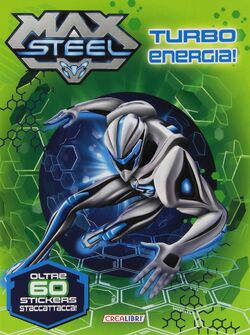 Max Steel: Turbo Energy!
(Original title: 
Turbo Energia! Max Steel, Con Adesivi
) is a book released by an Italian company named "
Crealibre
". It has 38 pages, and was released in October 2014 (specifically, in October 15). Overall, this book counts with 60 types of different stickers to collect and put on it, based on the heroes and villains, or screenshots of the series.
Official Description
"Villains, colossal and bio-parasite Ultralinks, mutants, monsters ... Only the formidable hero Max Steel is able to deal with them!"