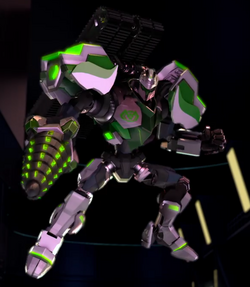 Turbo Drill Mode
is
C.Y.T.R.O.
's third
Turbo Vehicle Mode
. He unlocked it on
Turbo-Charged
.
History
After Terrorax introduced to Tempestra and C.Y.T.R.O. to one of his minions, Monster, the creature attacks the duo with small mutants that came out from his body. C.Y.T.R.O. decides to create Turbo Drill Mode, which he uses to bury the creature. After few minutes, C.Y.T.R.O. emerges from the ground and humorously says that there was sand on his engines.
He later on activates Turbo Drill Mode to fight against Team Terror on Terrorax's Hideout. C.Y.T.R.O. fights against Snare, but he is quickly defeated by one of the robot's traps.
Abilities
Superhuman Strength: Since C.Y.T.R.O. is a robot, he is stronger than an average individual.
Superhuman Durability: C.Y.T.R.O.'s armor is very resistant.
Drills: C.Y.T.R.O. gains a green drill on his right arm.
Wheels: C.Y.T.R.O. gains wheels attached to his back.
Appearance
Gallery
Trivia
The model used in the Turbo-Charged film recycles some parts of Turbo Chopper Mode. This was most likely done to save money, as the toy features a much different design.
Ad blocker interference detected!
Wikia is a free-to-use site that makes money from advertising. We have a modified experience for viewers using ad blockers

Wikia is not accessible if you've made further modifications. Remove the custom ad blocker rule(s) and the page will load as expected.