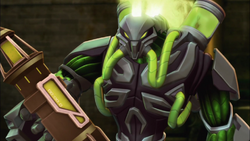 The
Tox-Bomb
is a dangerous and toxic bomb. This bomb was made by some mad man and it is highly dangerous, as said. This bomb has some Chernobyl-like result. The Tox-Bomb was stolen by
Toxzon
by using
C.Y.T.R.O
, since he hacked him and he was able to control him all the time and Toxzon wanted it because he wanted to get very powerful with the Tox-Bomb, when it exploded. The Tox-Bomb was preserved in the
Chemi-Vault
, which is in 
N-Tek
. The Tox-Bomb has a woman voice, when it was doing its countdown on when it was going to explode. It was also deactivated a lot of times. The Tox-Bomb was lastly deactivated when it was about to explode, which had 2 seconds left to explode. When C.Y.T.R.O stole the Tox-Bomb,
Max Steel
and
Roberto 'Berto' Martinez
were riding the
Turbo Cycle
and followed C.Y.T.R.O to Toxzon's Secret Hideout. The Tox-Bomb's first appearance was in 
C.Y.T.R.O Attacks!
.
Ad blocker interference detected!
Wikia is a free-to-use site that makes money from advertising. We have a modified experience for viewers using ad blockers

Wikia is not accessible if you've made further modifications. Remove the custom ad blocker rule(s) and the page will load as expected.