The Ultralink Hunter


Season 2, Episode 8
Information
Air Date
August 15, 2014
December 5, 2014 (YouTube)
Written By
Steve Sullivan
Directed By
Daniel Ife
Episode Guide
Previous
Next
Deep Turbo Blue Sea
Digital Meltdown
styl
 The Ultralink Hunter is the eighth episoode of the second season and the thirty-fourth episode of Max Steel. It was written by Steve Sullivan and directed by Daniel Ife. It aired on August 15, 2014 and was released on YouTube on December 5, 2014.
Synopsis
It's up to Max to rescue Steel and Ven-Ghan. He's up against Ultimate Elementor in Turbo Super Mode. Problem is, that's his only mode!
Plot
Cast
Events
Continuity
After seeing a clip from the battle on N-Tek's undersea base (from Deep Turbo Blue Sea), Metal Elementor realizes that Ultimate Elementor wanted him to die underwater.
Noteworthy Events
Featured Characters
Gallery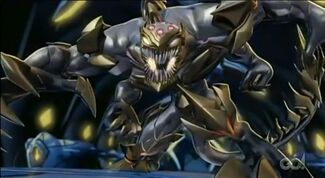 The Gallery of The Ultralink Hunter can be seen Here.
Trivia
Ven Ghan was called by a mysterious alien from the Black Star Council.
It is the first episode in which Blast Link appears without Prism Link and Chomp Link.
Ad blocker interference detected!
Wikia is a free-to-use site that makes money from advertising. We have a modified experience for viewers using ad blockers

Wikia is not accessible if you've made further modifications. Remove the custom ad blocker rule(s) and the page will load as expected.