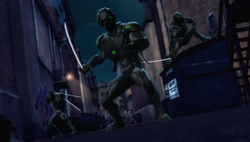 The Ninjas
are one of Max Steel's enemies. They are a group of holographic villains that were created by Berto for Max's trainings in N-Tek. They are also just holographic people that wear ninja uniform, which is black. They are also like
Sewer Monsters
, that were also created by Berto for Max's trainings in N-Tek. They first appeared in
Cleaning House
.
Origins
They were created by Berto for Max's trainings in N-Tek.
Trivia
They seem to be a little clumsy.
They look like Molly McGrath in her ninja suit.
The ninjas have swords.
Ad blocker interference detected!
Wikia is a free-to-use site that makes money from advertising. We have a modified experience for viewers using ad blockers

Wikia is not accessible if you've made further modifications. Remove the custom ad blocker rule(s) and the page will load as expected.