Dr. Prometheus Halifax
, known as
Terrorax
 on the
Nexus
legion, is a highly influent and active member of Nexus and the founder of
Halifax Industries
. He debuted in
Turbo-Charged
and is voiced by
Mark Oliver
.
History
Early Life
Dr. Prometheus Halifax is the enigmatic founder of the Halifax Industries. He presents himself to the world as a billionaire, but he is secretly a member of the Nexus organization under the name of Terrorax. He apparently was leading a project involving Maxwell McGrath's T.U.R.B.O. Energy to exploit its maximum potential, which eventually led to the creation of the Terror Energy. Alongside with Nexus, Prometheus wants to establish a new world order.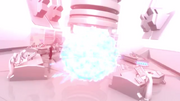 Terrorax sets a trap for Max's
Team Turbo
in an abandoned warehouse. After the the group was successfully defeated, Prometheus and few other
Nexus Agents
captures Max and forces him to generate large quantities of
T.U.R.B.O. Energy
. In the process, Prometheus mentions "the boundless possibilities" of the generation of his energy and the alien legacy that was lost over the years. Eventually, he obtains a portion of the energy and mentions that he could now synthesize their own "Terror Energy". When the villain commands the agents to electrocute Max's friends when he was about to overload and explode, the hero gets angry to the point of unlocking a new green version of his T.U.R.B.O. Energy. Max then explodes and his body is later discarded in a desert, where he is left to perish.
Prometheus later appears having a reunion with his agents in the Halifax building. Max and Alex invade the room using their Turbo Stealth Mode, even though that Prometheus states that he already knew that Max's team was in the building since his organization have been studying Max's energy signals for years. After listening to the villain's voice, he asks who Prometheus was, and the villain activates his armor and put on his mask, which suprises Max. Terrorax then uses connect few hoses containing Terror Energy to his techno suit, which turns him into a monster. Upon his ascension, the Nexus agents starts gloryfing his energy and the villain walks towards Max and La Fiera and at the same time says that Max defines limits and lines to his powers, lines that he would not cross, but that Terror Energy and him could. He procceds by attacking the duo, but Max dodges the attack and activates his power gloves to counter attack.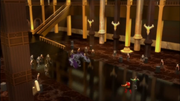 Max and La Fiera run towards Terrorax's direction and La Fiera attempts to attack him, but he tosses the hero on the wall, thus making him faint. Max gets angry and attacks Terrorax multiple times and manages to knock him down. He suddenly gets up and grabs Max by his head and demonstrates the power of the Terror Energy by destroying one of Max's power gloves. Shortly after, Max launches his other glove on the a pillar, which falls on Terrorax. He easily gets up and La Fiera attempts to fight against him, but the villain releases a shockwave with spikes projectiles that restrains La Fiera on the wall. While he is screaming in pain, Terrorax says that this was a glimpse of the future - Nexus will put the world on his knees and will destroy the technology that humanity depends to survive. La Fiera is ultimately faints and Terrorax, equipped with his axe, runs towards Max's direction while he charges his power glove. As the weapons collided, a massive explosion happens and Max hits the floor.
Terrorax and few Nexus agents approach Max while Terrorax was about to kill them, but C.Y.T.R.O. and Tempestra appear and destroy the roof, which falls on Terrorax. He suddenly gets up and releases a shockwave and grabs Tempestra and squeezes her until she transforms back to her base mode and finally tosses her. C.Y.T.R.O. attempts to defeat him, but he only charges the robot with Terror Energy, which causes a large explosion and glitches his system. Max is later tossed out of the building alongside with C.Y.T.R.O. and Terrorax was about to destroy them, until Tempestra and La Fiera distracted the villain. Max lifts a truck full of fuel and tosses to Terrorax, yet he manages to survive without a scratch.
In the next day, the Nexus legion hacks all the electronic devices on Copper Canyon and Terrorax appears presenting Nexus and their goals of disabling technology and those who resist to join their society would perish in the cruel and cold reality. Hours later, he proceeds to talk with Nexus to present Team Terror, a group of three deadly assassins (Night Howl, Snare and Monster) that would handle Max and his team. He charges them with his Terror Energy and sends each of them to a specific location to fight against Max and Team Turbo. Before they fought against them, Terrorax presents each member to Max and his friends and says goodbye.
Hours later, Terrorax appears preparing the Terror Energy emitters that would disable Copper Canyon's technology, but Team Turbo suddenly invades his hideout. Terrorax attempts to defeat them, but he discovers that Max's energy and technology is more powerful than ever. To destroy them, Terrorax sends Team Terror. Terrorax meanwhile charges the emitters with his Terror Energy and after few minutes, they release a large shockwave that disables all technology on Copper Canyon. Fortunately, Max and his team had defeated Terrorax's minions. Max, Tempestra and C.Y.T.R.O. combines their powers and manage to take down Terrrorax for few minutes while Max uses his green T.U.R.B.O. Energy to activate the technology once again. Meanwhile, Terrorax was fighting against Max's team, but after he sees that Max had ruined his plans, he gets extremely angry and releases a large shockwave that knock down the heroes.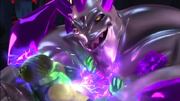 Upon seeing Terrorax, Max states that he would take him down by any means, and he replies by saying that he couldn't listen to him and uses his axe to forcibly attract Max to him. He restrains Max and starts generating large quantities of Terror Energy while saying that Max couldn't stop him, Nexus and his unstopabble Terror Energy. Max closes his eyes and creates a new mode:
Turbo Armor Mode
, which causes a large explosion that pushes Terrorax back. Max proceeds to defeat Terrorax and says that he shouldn't ever had get his powers, as he didn't knew how to properly use them. Terrorax says that Max was nothing and desperately tries to defeat him, but Max dodges his attacks and says that he was the hero and that Terrorax was the villain. He is nearly killed by Max after he launches a projectile made out of green T.U.R.B.O. Energy on his chest, which leaves a hole on his chest and deforms his body. Terrorax's hideout starts to fall apart and Max and his friends are forced to escape. They rescue Team Terror, yet Terrorax is left to perish.
Terrorax was later rescued by the Nexus agents and upon seeing his condition, Nexus commands his agents to start the bio-restoration protocols and says that the first Terror Energy test didn't went so well. Terrorax suddenly wakes up and says that the next time he faces Max, he would destroy him.
Abilities
Arsenal
Weaknessess
Etymology
Prometheus's alter ego, Terrorax, comes from the word terror, which is a extreme fear. The termination comes from his real name (Halifax).
Appearance
As a human, Terrorax has a white spiky hair, brown eyes and usually appears wearing a black suit. He wears a mask with horns, a large simile, a triangle in the forehead and a black, purple and silver outfit.
As a mutant, he gains a large and muscular build. He has three horns protuding from his head, yellow eyes with black pupils surrounded by black circles and spiky teeths. He has three purple stones protuding from his shoulders and few spikes on his forearm surrounding a purple stone. He has large hands with four fingers rather than five. He has few spikes on his thighs, a purple hexagon on his knee and three toes. He also appears carrying a large axe made out of Terror Energy.
By the end of Turbo-Warriors, Terrorax unlocks a new dragon form that gives him large wings, a segmented tail and the ability of creating axes on both arms. After his body was destroyed, he transformed himself into a small, deformed creature with a close resemblance to a larva with wings. He still retained his segmented tail and head.
Personality
Prometheus is a mysterious, calm, cunning and elegant person who strictly follows the orders of Nexus. He enjoys to highlight the advances that he has made to achieve the vision of the Nexus legion. As a mutant, he retains his conscience and ideals, still being loyal to Nexus and his allies. He also shows to be extremely energetic when fighting against Max's team and constantly talks about how powerful, marvelous and grandiose his Terror Energy is. In Turbo-Warriors, Terrorax returns and obssessed to serve Nexus and show how competent he is, yet Nexus doesn't believes in him anymore.
Quotes
Relationships
Terrorax is very loyal to Nexus and refers to him as "Lord Nexus". He seeked to serve Nexus and satisfy him, but after the events of Turbo-Charged, where Terrorax was defeated by Max Steel and his team, Nexus apparently doesn't believes on him anymore and Terrorax got obssessed in pleasing him.
Terrorax and Max share a mutual deep hatred. Prior to their interactions, Terrorax made an extensive research involving Maxwell and his T.U.R.B.O. Energy, and eventually found out about his secret identity and uses this to intimidate him. He also claims that Max doesn't realizes all the potential that his energy has to offer and still considers Max as a weak individual after he unlocked his new green energy.
As mentioned before, Terrorax has a deep hatred towards Max, as he stopped him from changing the world with his Terror Energy. Max, however, hates him for a completely different reason: he stole his energy and transformed it into a mass destruction weapon. By the end of Turbo-Charged, Terrorax, stated that he shall return and the next time he faces Max, he will destroy him by any means.
Terrorax also knows about Alex's secret identity. Terrorax and Rayne didn't interacted a lot, but they fought for the first time in the Halifax Industries building, where she was easily defeated by him. Alongside with Alex, she distracted Terrorax by throwing trash on him, which made him very angry and stated they would pay for that.
Terrorax also knows about Rayne's secret identity. Terrorax and C.Y.T.R.O. didn't interacted a lot, but they fought for the first time in the Halifax Industries building, where he infected C.Y.T.R.O.'s systems with Terror Energy and almost resulted on his permanent deactivation.
C.Y.T.R.O. and Terrorax didn't interacted a lot, but he fought against him on the Halifax Industries building and infected his systems with Terror Energy.
In Turbo-Warriors, it is revealed that Terrorax was allied with the Elementors and seeked their help. He promised them powers beyond what they had and managed to make them team-up with him in order to take down Max and his team.
Gallery
The Gallery of Terrorax can be seen Here.
Trivia
Characters of Max Steel (2013 TV Series)

Team Turbo
Max Steel

 ·

Alejandro Villar

 ·

Rayne Martinez

 ·

C.Y.T.R.O.
Allies
Commander Forge Ferrus

 ·

Berto

 ·

Jefferson Smith

 ·

Kat Ryan

 ·

Molly McGrath

 ·

Jim McGrath

 ·

Commander Parker

 ·

Furbo and clones

 ·

Ven-Ghan

 ·

T.J.

 ·

Torbolt

 ·

Soldiers

 ·

Scientists

 ·

Sydney Gardner

 ·

Kirby Kowalski

 ·

Butch

 ·

Knockout

 ·

Power Wing

 ·

Quickfire

 ·

Professor Connors
Main Antagonists
Miles Dread

 ·

Makino

 ·

Morphos

 ·

Professor Mortum

 ·

Dr. Prometheus Halifax

 ·

Lord Nexus

 ·

Extroyer

 ·

Toxzon and Fishy

 ·

The Elementors (Fire, Earth, Water, Air,Ultimate, Metal and Mega)

 ·

Jason Naught

 ·

Ultralinks (Drone, Fighter, Makino Elite, Raider, Stealth, Stinger, Spiny, and Tweezer)
Minor Antagonists
Alien Scientist

 ·

Avatak

 ·

Axel

 ·

Blast Link

 ·

Bone Links

 ·

Butch Link

 ·

Centipede Links

 ·

Chomp Link

 ·

Colonel Jasper F. Castle and his army

 ·

Dread Naughts

 ·

Dwayne

 ·

Earth Elementor (Species)

 ·

Forge Link

 ·

Goopanoids (Acid, Green Toxin, Nano, Radioactive and Toxic Bacteria)

 ·

Gun Links

 ·

Human Morphos Hybrids

 ·

Kirby Link

 ·

Lizard Links

 ·

Makino's Clones

 ·

Megalinks

 ·

Monster

 ·

Morphos' Clones

 ·

Murakami

 ·

N-Tek Link

 ·

Nexus Agents

 ·

Night Howl

 ·

Plaztek

 ·

Prism Link

 ·

Ragnok

 ·

Reaper Links

 ·

Robot Zombies

 ·

Rock Links

 ·

Sewer Monsters

 ·

Snare

 ·

Super Mud

 ·

Sydney Link

 ·

Tank Links

 ·

The Ninjas

 ·

Thieves

 ·

Toxic Zombies

 ·

Turbofied Dread Naughts

 ·

Vin

 ·

Worm Links

 ·

X376

 ·

Zelak
Others
Alien Scientist's Assistant

 ·

Cobrassaurus

 ·

Commander Kilgore

 ·

Copper Canyon High School Coach

 ·

Copper Canyon Mayor

 ·

Copper Squatch

 ·

Cute Girl

 ·

Dean

 ·

Dr. Thornhill

 ·

Dean

 ·

Firefighter

 ·

Georgina Romero

 ·

Hero-Man

 ·

Hot Dog Vendor

 ·

Intern

 ·

Jake

 ·

Jimmy Blaze

 ·

Johnny

 ·

Klean Kal

 ·

Laser-Lass

 ·

Lewis

 ·

Mama Moco

 ·

Martin

 ·

Max's Old Neighbors

 ·

Mortum's nephew

 ·

Mr. Jones

 ·

News Reporter

 ·

Police Officer

 ·

THI Security Guards

 ·

THI Technician

 ·

THI Workers

 ·

Tachyon Soldiers

 ·

The Black Star Council Councillor

 ·

The Ninjas

 ·

The Vendor

 ·

Toxic Piranhas

 ·

Toxic Seagull

 ·

Troy's Pet Tiger

 ·

Truck Driver

 ·

Unnamed Blonde Woman

 ·

Unnamed Copper Canyon High School Student
Ad blocker interference detected!
Wikia is a free-to-use site that makes money from advertising. We have a modified experience for viewers using ad blockers

Wikia is not accessible if you've made further modifications. Remove the custom ad blocker rule(s) and the page will load as expected.