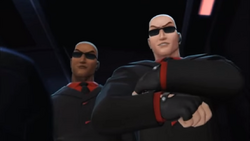 THI Security Guards
were a group of two men that were in charge of guard the
Building of THI
. They debuted on
Come Together Part Two
.
TV Show
When Molly McGrath was invading the building of THI, they suddenly appeared, however, despite their efforts, they weren't able to stop Molly's acrobatic abilities, and were eventually knocked down by her without much effort.
They appear leaving Tytus from THI after he was fired by Molly due to his irregular behavior.
Appearance
They are large and muscular men whose use black suit with the standard colours of THI (black and red). Both don't have hair. They also use black glasses, fingerless black gloves and have communicators in their right ear.
Ad blocker interference detected!
Wikia is a free-to-use site that makes money from advertising. We have a modified experience for viewers using ad blockers

Wikia is not accessible if you've made further modifications. Remove the custom ad blocker rule(s) and the page will load as expected.