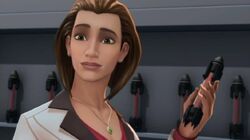 Suspended Animation
are these little bombs that are like the 
Knock-Out Gas Bomb
. As you can see, they are used to put any living organism to sleep. This is a little container that is colored red, but the gas is a green color, instead of a red color. There was also a gun, to shoot it to someone. It was introduced by 
Molly McGrath
, when 
Maxwell McGrath
, 
Sydney Gardner
, and 
Kirby Kowalski
 were taking a tour in 
THI
. Then Sydney stole some, to use them to stop 
Extroyer
, to thank 
Max Steel
 for always saving them. It was used accidently at Kirby, then it was used on 
Extroyer Tyrannosaurus Rex
, and thanks to that, he is in N-Tek Prison. This first appeared in 
Thanks, I Think
.
Ad blocker interference detected!
Wikia is a free-to-use site that makes money from advertising. We have a modified experience for viewers using ad blockers

Wikia is not accessible if you've made further modifications. Remove the custom ad blocker rule(s) and the page will load as expected.