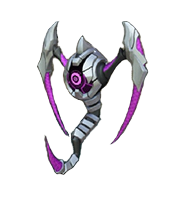 Stinger Ultralink
is a type of
Ultralinks
. They are fast, agressive, and tricky, which can be used to surprise their opponents and enemies. One of them appeared in
Ultralink Invasion Part One
, which is
Chomp Link
.
Variations
Purple
These Ultralinks are aggressive and fast - watch the skies or you'll be surprised!
Yellow
Aggressive, fast, and sometimes invisible - they fight to escape your Turbo Lash!
Red
The most tricky of Stinger Ultralinks, they stay invisible and move fast!
Trivia
The most common variation, is the purple version.
They have a shape in their heads similiar to Ven-Ghan's hair.
Ad blocker interference detected!
Wikia is a free-to-use site that makes money from advertising. We have a modified experience for viewers using ad blockers

Wikia is not accessible if you've made further modifications. Remove the custom ad blocker rule(s) and the page will load as expected.