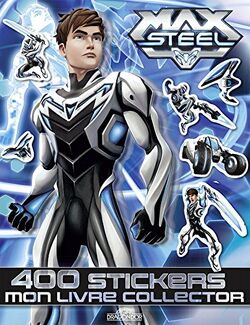 Max Steel: Sticker Book
(Original title:
Max Steel: 400 Stickers Mon Livre Collector
) is a book released by "
Les Livres du Dragon d'Or
". It has 32 pages, and was released in August of 2014. This time, the whole collection consists in 400 stickers, based on the characters, vehicles, weapons, different of the basic version, which has only 10 pages, with limited space to the stickers.
Official Description
"A must-have release for fans of Max Steel: wealth of information about their favorite characters, full of games and activities to compete against the worst enemies, and 32 pages of stickers to decorate the business or complete this book."
Ad blocker interference detected!
Wikia is a free-to-use site that makes money from advertising. We have a modified experience for viewers using ad blockers

Wikia is not accessible if you've made further modifications. Remove the custom ad blocker rule(s) and the page will load as expected.