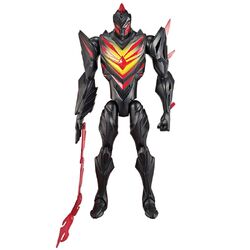 Spike Whip Dread
is an action figure based on
Miles Dredd
in his
Spike mode
. This figure was released in 2015 in the first wave of figures and is a part of
Transform-Tek
line.
Description
Miles Dread's armor remains almost the same when compared to his main mode. The figure have yellow paint job on the chest, and red paint on the head, left arm, and torso. Dread is also slimmer when compared to other figures of him, but this is due to the fact that he is a budget action figure, where he is not expensive as other deluxe figures. The figure have seven points of articulation.
Miles Dread's transformation process includes pressing a lever to reveal three spikes on his right arm, lift the hidden spike on his head, and assemble the hidden whip located on Dread's left hand. The whip is also poseable on four segments.
Trivia
It is the first budget action figure of Miles Dread that was released on a thin box. Alongside with him, an action figure of Extroyer known as Scorpion Sting Extroyer was also released.
It is the first toy where the box is labeled "Dread" instead of "Dredd". Curiously, on other countries, the box have labeled the both variations of Dread's names.