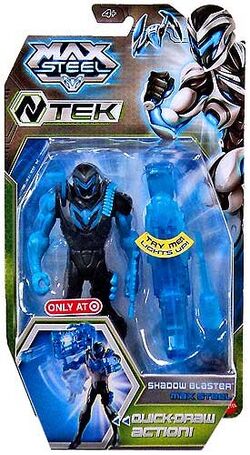 Shadow Blast Max
is an action figure based on
Max Steel
. It was released in 2013, as a exclusive figure of Target, but still is a part of
6 Inch Line
.
Description
The figure is only a relaunch of Electro Cannon Max, which was released in the same year. The only differences, is that Max's armor features darker colours, similiar to Turbo Stealth Mode. The figure has six points of articulation, and comes with one accessory, and one projectile.
The accessory is a cannon that can be inserted into Max Steel's left arm. When the cannon launches the projectile, it lights up at the same time. Also, Max's right hand has a gun that is not removable, because is a part of the sculpture.
Ad blocker interference detected!
Wikia is a free-to-use site that makes money from advertising. We have a modified experience for viewers using ad blockers

Wikia is not accessible if you've made further modifications. Remove the custom ad blocker rule(s) and the page will load as expected.