Season 2
Talk

0
571pages on
this wiki
Click here to go to Season 1.
Season 2
 is the second season of the 
Max Steel (2013 TV Series)
. The series is currently being aired in some countries.
Plot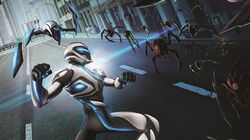 Our two great heroes,
Max
and
Steel
, now they both know about the truth about their past, and they should combat more evil villains. They will still be combating old villains like 
Miles Dredd
, 
Jason Naught
, 
The Elementors
, 
Toxzon
, 
Extroyer
, and more. Also new villains from put of this world like
Blast Link
, 
Chomp Link
, 
Prism Link
, 
Plaztek
, 
Ven Ghan
, 
Metal Elementor
,
Mega Elementor
, and others more to come. And also they will be combating against 
Ultralinks
, but not only one, but an
Invasion of Ultralinks
that are very evil, that our heroes will be fighting against with to protect the world. And more people will know 
Max Steel
's secret identity? Also there will be an invasion of Ultralinks and also, Max will have to face 
Makino
.
The "Old" Season 2
Before Season 2 was aired, there were plans by Mattel that they will make for the series. Like, new agents were coming to the series. They were going to be Charles "Chuck" Marshak, Rachel Leeds, and Jake Nez. And also new villains that were going to be introduced. They were going to be Dark Titan, Titan, Dragonella, Electrix, Bio-Constrictor, Igor, and more. Dark Titan was cancelled because of parents who thought that Dark Titan would be some trouble for kids. So it was taken to court and they cancelled Dark Titan and the other new characters that were going to appear in Season 2.
List of Episodes
Videos
In 2013, some videos of Season 2 leaked in the internet, and they shown new characters and some new events. In 2014, Mattel officialy posted the final version of Season 2 in internet.
Trivia
The episode Hard Water and Turbo Deep Star Sea have similiarities: Both are focused in water/ oceans, and both are episode 7.
In Dredd Ascendant, there is a cameo of Dark Titan when Ultimate Elementor and Prism Link trapped Max Steel in Turbo Strength Mode inside of a tornado with diamond spikes and lightning.
The episode Cleaning House and Toxic Relationship have similiarities: Both were episode 4 and also, Toxzon was in them as the villain of the episode.
Toxzon made less appearances in this season than the previous season of Max Steel, since he only appeared in four episodes.
Metal Elementor was introduced in this season.
At the end of The Ultralink Hunter, Metal Elementor absorbed Ultimate Elementor, turning them into Mega Elementor.
At the beginning of Season 2, Ven-Ghan was a villain, but then he turned into an ally later on in the show.
Makino creates three modes in Season 2, Makino Jet Mode, Makino Tank Mode, and Makino Giant Mode.
In the finale of this season, the Ultralink Invasion accords.
Max Steel unleashes new Turbo Modes, like Turbo Heat Mode, Turbo Rocket Mode, and Turbo Spike Mode.
Steel unleashes his first Turbo Mode, Turbo Mimic Mode.
It is revealed that Jim McGrath is alived.
Bartholomew 'Butch' becomes friends with Maxwell McGrath, Sydney Gardner, and Kirby Kowalski.
In Me, Myself, and Extroyer, Extrpyer absorbs some of Max Steel's T.U.R.B.O Energy (While Max Steel was in Turbo Strength Mode), turning himself into Extroyer Turbo Strength Mode, which an evil and Extroyer-looking version of Turbo Strength Mode.
Season 2 forced more into the Ultralinks than any other villain from the series.
Along with Toxzon, Extroyer only made five appearances in this season, which is less appearances than in the previous season.