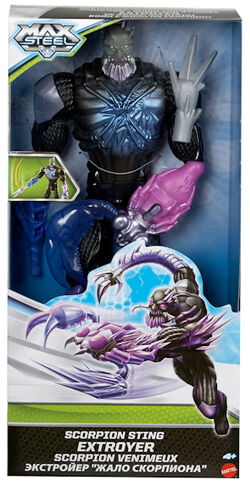 Scorpion Sting Extroyer
is an action figure based on
Extroyer
in his
Scorpion mode
. This figure was released in 2015 in the first wave of action figures, and is a part of
Battle-Tek
line.
Description
The figure, when compared to Extroyer's previous ones, is very different. Extroyer does not have the crystals on his shoulder, only in his chest, his mutated arm was replaced with an scorpion, his left arm was replaced by the tail of the scorpion, and two fangs can be seen in his mouth. However, he still retains the characteristcs of his main mode. It has nine points of articulation, and comes with one acessory.
He is able to move his scorpion claws when a button in his mutated arm is pressed. He also comes with one crystal, that can be inserted on his left arm, or in his left shoulder.
Trivia
Ad blocker interference detected!
Wikia is a free-to-use site that makes money from advertising. We have a modified experience for viewers using ad blockers

Wikia is not accessible if you've made further modifications. Remove the custom ad blocker rule(s) and the page will load as expected.