Morphos Ahead!


This article is a stub. You can help Max Steel Reboot Wiki by expanding it.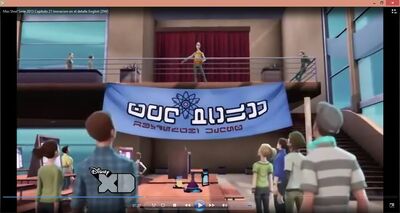 The Science Fair
was an event that happened in 
Copper Canyon High School
. It was lead by 
Dr. Thornhill
. There were a lot of science project in that event. The only projects that were seen were 
Bartholomew 'Butch's
, 
Sydney Gardner's
, 
Kirby Kowalski's
, and 
Maxwell McGrath's
. The Science Fair was so that the students from Copper Canyon High School could get extra credit. The winner of the Science Fair was Maxwell McGrath, because of the Electronic Shoe Warmer (Which was
Steel
 inside of a shoe) that he "made" (Dr. Thornhill thought it was made by him, but it was just Steel hiding inside of the shoe). The Science Fair first appeared in 
Making the Grade
.
Origins
The Science Fair was lead by Dr. Thornhill for extra credit. The Science Fair was taken  place somewhere in Copper Canyon High School. This Science Fair appeared once and it was in the school.
Trivia
The Science Fair was fill with a lot of students.
Ad blocker interference detected!
Wikia is a free-to-use site that makes money from advertising. We have a modified experience for viewers using ad blockers

Wikia is not accessible if you've made further modifications. Remove the custom ad blocker rule(s) and the page will load as expected.