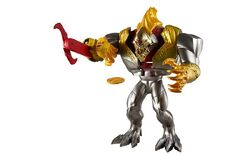 Saw Blast Metal Elementor
is an action figure based on
Metal Elementor
. This figure was released in 2015 in the first wave of figures, and is a part of
Battle-Tek
line.
Description
Metal Elementor got notable changes, the golden head, yellow forearms, and molten-like chest.
The figure presents three attack modes. The first one, is the hidden saw, when a button on his shoulder is pressed, the saw will elevate and then spin. The second one, when the legs are pressed, his chest opens and reveals his secret armor / cavity. The third, is when Metal Elementor launches the molten-like discs.
Trivia
Ad blocker interference detected!
Wikia is a free-to-use site that makes money from advertising. We have a modified experience for viewers using ad blockers

Wikia is not accessible if you've made further modifications. Remove the custom ad blocker rule(s) and the page will load as expected.