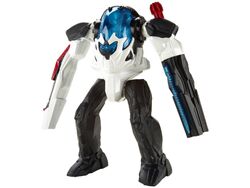 Rocket Nova Max
is an action figure based on
Max Steel
in the
Turbo Rocket Nova Mode
. This figure was released in 2015 in the first wave of figures, and is a part of
Battle-Tek
line.
Description
Considering that this is based on Turbo Rocket Nova Mode, the details on it are very limited. The figure also does not have the third cannon in Max's head, but there are a Max Steel sculpted inside, which can be seen through the clear plastic.
The figure can do a lot of gimmicks: The first one, in the left arm, is when a button is pressed, a cannon is revealed, and then launches an missile. The second one, is when a button is pressed, on his right arm, two blades are revealed. Also, a part of the cannon is movable through a red lever.ver.
Ad blocker interference detected!
Wikia is a free-to-use site that makes money from advertising. We have a modified experience for viewers using ad blockers

Wikia is not accessible if you've made further modifications. Remove the custom ad blocker rule(s) and the page will load as expected.