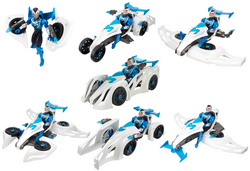 Multi Striker
is an vehicle with a figure, the last being based on
Max Steel
. It was released in in 2013 in the first wave of action figures, and is a part of
Connect-Tek
line.
Description
The vehicle is car consisting into three colours, black, blue, and white, with Steel logo in the front. The figure has the same body type as other basic figures of Connect-Tek line, the only thing that distinguish it is the new sculpture and colours.
The car, based on the Connect-Tek system, can handle a lot of accessories of other toys, and can assume many forms by removing or adding more parts. The parts of the car can also fit on Max Steel's Connect-Tek holes.
Ad blocker interference detected!
Wikia is a free-to-use site that makes money from advertising. We have a modified experience for viewers using ad blockers

Wikia is not accessible if you've made further modifications. Remove the custom ad blocker rule(s) and the page will load as expected.