Morphos Turbo Strength Mode
is one of the modes of
Morphos
. This mode is Morphos as
Turbo Strength Mode
. Morphos Turbo Strength Mode debuts in
Max Steel: The Dawn of Morphos
.
Origins
The mode was the first that Morphos got. When he was fighting against Max Steel for the first time, he used his tentacle to absorb this mode, but only used it later on during their second encounter.
TV Show
When Miles Dredd launched a package for Max Steel, it contained Morphos, which later absorbed Max's Turbo Strength Mode. However, when Dredd set a trap to Max, Morphos used this mode to fight against Max, which was a way more powerful than Max's version.
Later, he used this mode to fight against Max Steel in the last part of the movie. However, this mode wasn't strong enough to fight against Turbo Combo Mode, and Morphos was forced to retreat, although that was defeated.
Abilites
Gallery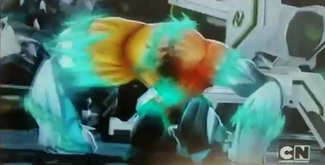 The Gallery of Morphos Turbo Strength Mode can be seen Here.
Trivia
This mode copies the DNA code of Max Steel.
Morphos used the hand of this mode to enter in N-Tek.
Ad blocker interference detected!
Wikia is a free-to-use site that makes money from advertising. We have a modified experience for viewers using ad blockers

Wikia is not accessible if you've made further modifications. Remove the custom ad blocker rule(s) and the page will load as expected.