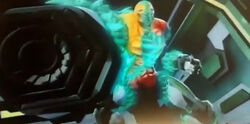 Morphos C.Y.T.R.O Mode
is one of the modes of
Morphos
. In this mode, Morphos gets all the powers from
C.Y.T.R.O
, but they are alll enhanced. Morphos C.Y.T.R.O Mode in
Max Steel: The Dawn of Morphos
.
Origins
When Morphos invaded N-Tek, he fought against C.Y.T.R.O. In the battle, he used his tentacle to absorb C.Y.T.R.O's powers, and consequently defeated it.
TV Show
When Morphos invaded and attacked N-Tek through the Strength Mode, he fought against C.Y.T.R.O and used his tentacle to absorb his powers, and then defeated C.Y.T.R.O. He later used this mode again when he fought against Max Steel in Copper Canyon; he attacked through green projectiles, and also used the cannon to fly.
Gallery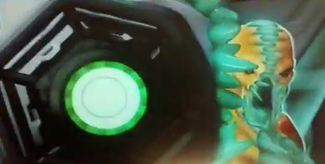 The Gallery of Morphos C.Y.T.R.O Mode can be seen Here.
Trivia
This is the third mode that Morphos got.
It is the second mode in where Morphos has flight.
Unlike the other modes he got, this is the first mode that was originated from a robot, not a human or alien.
Ad blocker interference detected!
Wikia is a free-to-use site that makes money from advertising. We have a modified experience for viewers using ad blockers

Wikia is not accessible if you've made further modifications. Remove the custom ad blocker rule(s) and the page will load as expected.