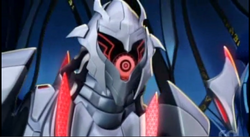 Megalinks
 are upgraded versions of
Ultralinks
. Unlike them, they are tasked with more important tasks, such as piloting ships and some even handling the
Alphalink
. They have higer ranks and are commonly found on the Alphalink, usually in group. They seek hosts for the
Ultralinks
by calculating the weapon potential of the host. One of them appeared in
Toxic Relationship
, which marked their debut.
History
They were most likely created to find hosts more easily to Ultralinks, instead of them being sent to link with something.
One of them appeared seeking a host for Ultralinks and eventually found Toxzon. When the Megalink was about to release the Ultralink, Toxzon tried to escape, but it eventually linked with Fishy. Even though that at first the Megalink realized the link was unintentional, he didn't cared after seeing the result and fleed.
Powers
The Megalinks are superior versions of the Ultralinks. They are able to annex (or absorb) them to get more powerful, and shoot lasers through their hands, although they aren't that powerful.
Known Megalinks
Metallak: One of Makino's most trusted commanders, Metallak conquered many planets with his army. After he was sent to Earth, he linked with a pyramid and Metal Elementor was born.
Avatak: He supposedly would link with a blaster, but instead he linked with a videogame console, creating a large technological monster. He was controlled by Toxzon and eventually was killed by Max and Steel in the game.
Nameless Megalinks
The following list refers to the nameless Ultralinks who were seen in the show but weren't named.
Trivia
Megalinks are the only Ultralinks that possess a body with limbs without having to link with something.
The Megalink, Metal Elementor, had a different head design when compared to regular Megalinks, since his head was based in a Fighter Ultralink, while the common ones had a head based in a Raider Ultralink.

They are able to assume an Ultralink form. Most of them (if not all) are Stealth Ultralinks.
Even though that they are the upgraded version of the Ultralinks, their head are the same as Raider Ultralinks.
They were one of the few new characters mentioned in the second trailer of Season 2.
Characters introduced on Season 2 appears in green.
Ad blocker interference detected!
Wikia is a free-to-use site that makes money from advertising. We have a modified experience for viewers using ad blockers

Wikia is not accessible if you've made further modifications. Remove the custom ad blocker rule(s) and the page will load as expected.