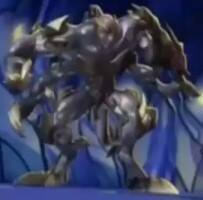 Mega Metal Elementor
is one of
The Elementors
in the
Mega Elementor
body. He is the Elementor that takes over the whole Mega Elementor body, instead of
Air Elementor
. Mega Metal Elementor was previously
Metal Elementor
. Like in his previous body, he has the same abilities, which are related to metal. Mega Metal Elementor is voiced by Trevor Devall. Mega Metal Elementor debuts in
The Ultralink Hunter
.
Origins
When Metal Elementor absorbed Ultimate Elementor to fuse into Mega Elementor, Metal Elementor changed into Mega Metal Elementor.
Tv Show
Gallery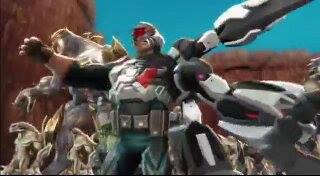 The Gallery of Mega Metal Elementor can be seen Here.
Trivia
Makino called Metal Elementor, Mega Metal Elementor in The Legend of Ja'em Mk'rah.
Mega Metal takes over the Mega Elementor body, instead of Air Elementor, who took over the Ultimate Elementor body, before turning into Mega Elementor and after turning into Ultimate Elementor.
So far in Season 2, Mega Metal Elementor appears the most in the episodes.
Like he did before fusing into Mega Elementor, Mega Metal Elementor commands the Ultralinks.
Mega Metal Elementor is an Ultralink Trainer, which is seen in the episode, Turbolt the Terrible.
Ad blocker interference detected!
Wikia is a free-to-use site that makes money from advertising. We have a modified experience for viewers using ad blockers

Wikia is not accessible if you've made further modifications. Remove the custom ad blocker rule(s) and the page will load as expected.