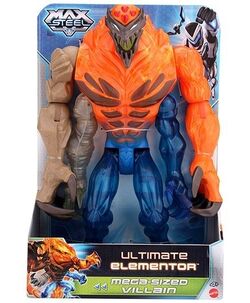 Mega-Sized Villain
was a short line of action figures in 2014 that focused in only two characters,
Makino
and
Ultimate Elementor
. Different of the previous line launched in USA, those figures are bigger, they are 12 inches.
Description
As said before, the figures were 12 inches, and they didn't do any gimmick. The figures had various points of articulation, but they had lack of paint also.
List of figures
Ad blocker interference detected!
Wikia is a free-to-use site that makes money from advertising. We have a modified experience for viewers using ad blockers

Wikia is not accessible if you've made further modifications. Remove the custom ad blocker rule(s) and the page will load as expected.