Sometimes, McDonald's give exclusive toys of the new series of Max Steel. Those toys are all licensed by Mattel, and curiously, when they are in Happy Meal, they are always together with an another Mattel franchise.
List of Toys
2013
In October 2013, McDonald's were giving Max Steel toys for boys and Monster High toys for girls. There were a set of five toys, with those being: Max's
Turbo Flight Mode
, Max's
Turbo Strength Mode
, the
Turbo Cycle
, a
N-Tek
Hopper
and the
Turbo Car
.
2014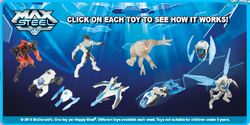 In November/December 2014, Australian McDonald's gave out Max Steel toys for boys and Barbie: Life In The Dream House toys for girls. There in total eight toys, those being:
Steel
,
Air Elementor
,
Miles Dread
, the Turbo Racer,
Maxwell McGrath
, the
Turbo Jet
(incorrectly labelled as Jump Jet), the Turbo Cycle and Max's Turbo Flight Mode (labelled as Max Steel Flight Suit). By scanning the package of the toy, the person could unlock four games from Max Steel, being them: 
Turbo Cycle Clash
, 
Turbo Flight Faceoff
, 
Turbo Rocket Rampage
and 
Turbo Scuba Showdown
.
In December, the Latin America McDonald's gave out four toys of the aforementioned collection, with those being: Maxwell McGrath, Miles Dread, the Turbo Racer and the Turbo Cycle. The promotion lacked the games.
2015
In February 2015, there were a set of four toys of Max Steel for boys and four toys of Monster High for girls. There were in total a set of four toys, this time being, Max Steel,
C.Y.T.R.O.
, Turbo Car/Cycle and a bracelet based on Steel. All toys were based under the concept of the
Transform-Tek
toy line, released in 2015.
Trivia
The website and package incorrectly referred the Turbo Jet as Jump Jet.
When the toys were being given out in Latin America in 2014, there were a set of cards that the person could get.
Ad blocker interference detected!
Wikia is a free-to-use site that makes money from advertising. We have a modified experience for viewers using ad blockers

Wikia is not accessible if you've made further modifications. Remove the custom ad blocker rule(s) and the page will load as expected.