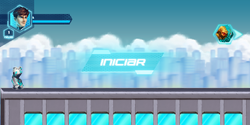 Maximum Morphos
 was an exclusive game based on the events of
Maximum Morphos
released in a promotional website.
Plot
"Morphos has turned the citizens into his slaves. Dodge the obstacles and destroy them and knock out the slaves of Morphos."
Gameplay
It is a side-scrolling game where the player is Max Steel, who is chasing Morphos. The player can control Max with the the left, up and right arrows on the keyboard in order to dodge the obstacles.
Trivia
It was the second game released in 2015, and also the second where Morphos is the main villain.
Ad blocker interference detected!
Wikia is a free-to-use site that makes money from advertising. We have a modified experience for viewers using ad blockers

Wikia is not accessible if you've made further modifications. Remove the custom ad blocker rule(s) and the page will load as expected.