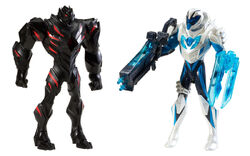 Max Steel Vs Dredd
 is an battle-pack with two characters, being them
Max Steel
, and
Miles Dredd
. There is two versions of this pack, one released in USA, and one in Latin America. The USA version was a part of
6 Inch Line
, and the Latin America version was a part of
Speed
line.
Description
Latin America
In this pack, Max Steel is usinga mode similiar to Turbo Flight Mode, but with a different design. The armor of it is mostly white with black details on the legs, boots, helmet, and arms, and blue details on the torso, arms, head, and legs. The figure comes with two accessories (one gun that is able to launch two projectiles at the same time light-up, and one shield with Steel's shape in the front), and two projectiles, and have twelve points of articulation.
Miles Dredd has a armor that is mostly black, with red details on the head, torso, arms, and legs. The figure only five points or articulation, and is able extend his hand, and at the same time, his eyes will light-up.
USA
In this pack,
Max
's armor is almost the same when compared to the Latin America version, only the articulation is different. The figure have only six points of articulation, and comes with two accessories: one gun that is able to light-up while shoots the projectiles, and one shield that can be placed in Max's hands.
The figure of Miles Dredd in this pack is mostly black with red details, like the Latin America counterpart. The figure only have six points of articlulation, and has the same gimmick of his Latin America version: he is able to extend his hand, but is not able to light-up the eyes. 
Trivia
Ad blocker interference detected!
Wikia is a free-to-use site that makes money from advertising. We have a modified experience for viewers using ad blockers

Wikia is not accessible if you've made further modifications. Remove the custom ad blocker rule(s) and the page will load as expected.