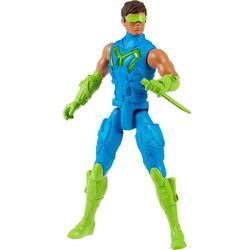 Adventure Max Steel
 is one of
Max Steel
's action figures released in the first half of 2017. He is a part of both
Turbo Mission
and
Connect-Tek
sublines.
History
Adventure Max Steel VS Javelin Bow Dread: Max Steel is ready. Not even Dread, with his transformable arc/bow can defeat him.
Description
Max wears green glasses, a light blue armor with a green logo on the chest with the shape of the letter M and wears light green boots, gree forearm pads and gloves. He is also carrying a dagger on his left hand. He has eleven points of articulation and does not come with any accessory.
He has Connect-Tek ports on his body, which allows him to connect weapons from other toys onto him.
Gallery
Template:2017 Toys
Ad blocker interference detected!
Wikia is a free-to-use site that makes money from advertising. We have a modified experience for viewers using ad blockers

Wikia is not accessible if you've made further modifications. Remove the custom ad blocker rule(s) and the page will load as expected.