Welcome to 

Max Steel Reboot Wiki!}



Like our page on Facebook!
About Max Steel!
Max Steel is a toy line created by Mattel in 1999. It initially started as a toy line but later a TV show was created, which ran from 2000 to 2003, later having direct-to-video movies released every year. In 2013, the franchise was rebooted.
The story is about a teenager known as Maxwell McGrath who recently moved to Copper Canyon with his mother, Molly McGrath. There, he realises that he can generate a powerful energy known as T.U.R.B.O. Energy. He is taken to N-Tek, a top secret agency commanded by Max's uncle, Forge Ferrus, where he meets an Ultralink (alien technology from Planet Makino known as Steel. Together, they bond and create the superhero Max Steel, who will fight against formidable foes to save the world from mayhem! However, Max must deal with day-by-day problems, such as school, bullies and at the same time save the world. Max and Steel will be finding out new things about their lives and also the mysterious dark secrets that N-Tek has.
Please Read Before you Explore!
This wiki has a considerable amount of spoilers from episodes and movies that you might have not watched.  So whatever you do, if you don't want to read spoilers about the series, then watch the series before you read some spoilers from it. The articles are also protected, you might have to contact the founder of the founder of the Wiki or other admins to unlock them.
Wiki's Statistics!
This Wiki has 964 articles ever since August 4, 2013!
This Wiki has 23,757 edits ever since August 4, 2013!
This Wiki has 5,056 files ever since August 4, 2013!
This Wiki has 5 Active Users right now!
This Wiki has 13 admins ever since August 4, 2013!
Official Links!
Mattel.com. - The official site of Mattel, the main creator of Max Steel franchise.
Maxsteel.com - The official website of Max Steel. There, you can get badges, learn more about characters, can play games, and more!
Image of the month!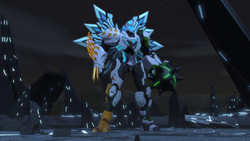 Helping Out!
We currently have 964 articles, and 5,056 files, since August 4, 2013!
N-Tek Wants You!
You can also edit this Wiki! Through the box below, you can create any kind of article. But remember: don't create pages for fan-made characters, only create necessary articles, not duplicates or with offensive purposes!
Happy editing!
In other countries!
Max Steel Reboot News!
Mattel's 2017 content was released, featuring two movies known as Max Steel: Turbo Charged and Max Steel: Turbo Warriors, both having 44 minutes. A new villain known as Terrorax was confirmed to be the main antagonist of both films, also being the leader of a secret organization of super villains. The design of the character leaked on the internet throuhg Instagram and he is based off on Psycho, Max's arch-nemesis in the old series.
The live action movie is set to be released on October 14 of this year. Alongside with the movie, new merchandise were released.
Team Turbo Fusion Tek debuts on TV in August 31 in CITV and September 3 on Latin America.
The second wave of action figures started to hit the shelves of the stores. Mortum has its first action figure known as Trap Turbo Mortum, featuring one of Mortum's macabre Turbo Modes. Meanwhile, it was confirmed that Tempestra won't have an action figure. 
Max Steel: Team Turbo officially is released on Latin America and Europe.
The Official Website was renewed with for the upcoming films of 2016. See it now!
The new figures of 2016 started to hit the shelves. Max is now older and that he doesn't needs Steel anymore to control his energy. Some toys also have the logo of the movie Max Steel: Team Turbo, where pictures of Tempestra, C.Y.T.R.O. and La Fiera can be seen.
Featured Character / Article of the Month!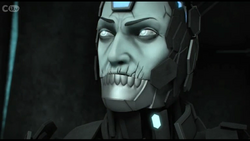 Professor Mortum is the newest enemy of Max Steel's Team Turbo and the mutant behind the Technopocalypse. He was bent on evolving the humanity by converting the whole humanity into hive-mined zombies through the power of the Connect Tek, crated by Jim McGrath years ago.
Did you know ...?
... That Dark Titan will not appear in Season 2, and that he is fake?
... That Miles Dredd in the Season Finale of Season 1, had an upgraded mode that was upgraded by Makino, which is called Miles Dredd Makino Mode?
... That Commander Forge Ferrus' left arm was eaten by a Giant Centipede Monster and then replaced by a robotic arm that was created by Roberto 'Berto' Martinez?
... That Ven-Ghan appears in Season 2, where he attempts to capture Steel, but later allies with N-Tek?
... That in "Hosed", Max takes a shower and his bare arm is shown, though it is said in Come Together Part One that he could not take the Steel Suit off?
... That in some episodes, Miles Dredd's Device is seen that it has light in it when he is in Miles Dredd Main Mode, only that it is not supposed to have a light?
... That in the trailer for Season 2, Forge Ferrus' arm is shown to have skin, when he is supposed to have his robot arm on?
... That the co-Founder's birthday is in August 3rd, and the Wiki was created the day after his birthday, on August 4th?
... That the Wiki is getting better, thanks to a highlited forum Luisantonio.barrera.9277 sent out, and to other contributors who came later?
... That The cool templates and things you see in the Wiki are thanks to Luis' loyal and special admin, User:Extroyer?
... That even though Metallak is linked with a statue, the top a pyramid to become Metal Elementor, the Ultralink Invasion app says he linked with a pyramid, not the statue?
... That the Official Website used one of Max Steel Reboot Wiki images on the profile of The Elementors?
The Wiki Staffs
Questions? Suggestions? Critiques? Talk with those admins.
Staffs (Clan)

Bureaucrats, Administrators, Chat Moderators, and Rollbacks
Polls
What is your opinion about Season 2?
Did you liked the new look of the Wiki?
What is your favorite member of Team Turbo?
Do you prefer, the Max Steel 2000, or the Max Steel 2013?
Ad blocker interference detected!
Wikia is a free-to-use site that makes money from advertising. We have a modified experience for viewers using ad blockers

Wikia is not accessible if you've made further modifications. Remove the custom ad blocker rule(s) and the page will load as expected.