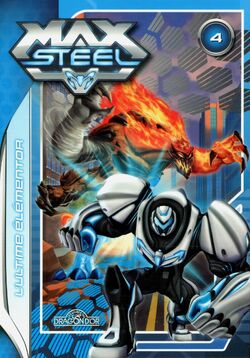 Max Steel: Ultimate Elementor
(Original title:
Max Steel: Ultime Élémentor
) is a book released by "
Les Livres du Dragon d'Or
". It has 93 pages, and was released in August 2014 (Specifically, in August 28). It is also the fourth book of an unknown collection of books that was recently released in 2014 in France.
Official Description
"In this new adventure, Max Steel will face a new enemy: the Ultimate Elementor, a fusion of all types of The Elementors: Air, Water, Fire and Earth. This formidable monster will give much of a handful for our superhero, who more and more difficult to keep his identity secret from his girlfriend."
Ad blocker interference detected!
Wikia is a free-to-use site that makes money from advertising. We have a modified experience for viewers using ad blockers

Wikia is not accessible if you've made further modifications. Remove the custom ad blocker rule(s) and the page will load as expected.