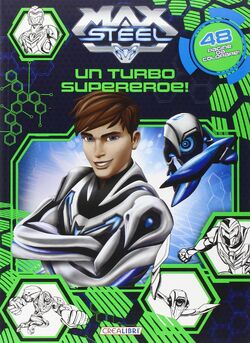 Max Steel: A Turbo Powered Hero
(Original title:
Max Steel: Un Turbo Supereroe!
) is a book released by a italian company named "
Crealibri
". It has 48 pages, and was released in October of 2014 (specifically, in October 14). The book has a lot of colouring pages, games, and activities to kids play.
Official Description
"Lot of colours, games and activities to discover the whole and incredible world of: Max Steel, our favorite superhero!"
Ad blocker interference detected!
Wikia is a free-to-use site that makes money from advertising. We have a modified experience for viewers using ad blockers

Wikia is not accessible if you've made further modifications. Remove the custom ad blocker rule(s) and the page will load as expected.