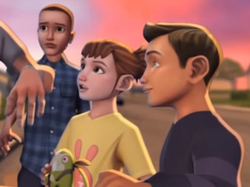 Max's Old Neighbors
were a group of three unnamed childrens that lived on the previous city that
Max
lived. They debuted on
Come Together Part One
.
TV Show
When Max was about to move to Copper Canyon, they appeared and one of them catched a picture of Jim and Molly, and asked if that man was Max. Max denied and later gave some of his toys to them, specifically a plush to the girl, and an action figure to the boy with the purple blouse.
Appearance
They are a group consisting in three kids, two being a boy, and one being a girl.
One of the used a blue striped shirt with blue jeans and black shoes. The other is blond boy that has a forelock, uses a purple blouse, brown jeans and black shoes. The girl has tied back hair, uses a yellow shirt with a illustration of a pink bunny, blue jeans and pink shoes.
Trivia
Their heads were reused for other students later seen in the series. They also obviously got older features in their faces.
Ad blocker interference detected!
Wikia is a free-to-use site that makes money from advertising. We have a modified experience for viewers using ad blockers

Wikia is not accessible if you've made further modifications. Remove the custom ad blocker rule(s) and the page will load as expected.