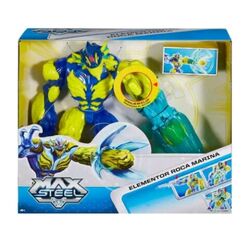 Marine Rock Elementor
 (unofficial name) is an action figure based on the fusion of
Earth
and
Water Elementor
. It was released in 2016.
Description
Elementor's face possesses the same characteristics as Water Elementor's face, it has a completely yellow jaw, yellow marks on above the eyes and fin-like ears. Elementor's body is completely light blue with yellow rocks on the chest, abdomen, shoulders, biceps, left tight and right leg and feet. Half of his right arm is yellow while the rest is blue. He has five points of articulation and comes with one projectile.
Elementor's left hand can release water while his right arm possesses a large cannon that is capable of launching a projectile and spinning the four transparent parts at the same time.
Ad blocker interference detected!
Wikia is a free-to-use site that makes money from advertising. We have a modified experience for viewers using ad blockers

Wikia is not accessible if you've made further modifications. Remove the custom ad blocker rule(s) and the page will load as expected.