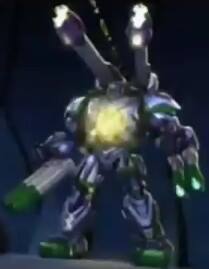 Makino Tank Mode
is the third mode Makino's transformations. This mode is his
main mode
, only that it has pieces and parts of an
N-Tek R.O.C.C
. Makino Tank Mode can shoot enemies with his blasters. He has blasters on his shoulders, just like
Makino Jet Mode
, only that he also have some two blasters on each hand. Under his feet, he has little wheels like an N-Tek R.O.C.C. Makino Tank Mode debuts in
Makino Strikes: Part Two
.
Origins
Inside a Makino Ship, Makino had Steel trapped with him. Then Max broke inside the place and crashed Makino with an N-Tek R.O.C.C. Before Max could save Steel, Makino destroys the N-Tek R.O.C.C into pieces. Then Makino used the pieces to make his new mode, Makino Tank Mode.
TV Show
Gallery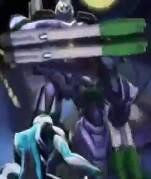 The Gallery of Makino Tank Mode can be seen Here.
Trivia
In its debut, this mode didn't make that much of an appearance.
This mode is a reboot to the original Makino Tank Mode.
Unlike the original Makino Tank Mode, this one has wheels under his feet, while the original one had big wheels that covered his legs.
Makino has two blasters on each arms that have green on the ends.
Ad blocker interference detected!
Wikia is a free-to-use site that makes money from advertising. We have a modified experience for viewers using ad blockers

Wikia is not accessible if you've made further modifications. Remove the custom ad blocker rule(s) and the page will load as expected.