Makino
Talk

0
527pages on
this wiki
Makino, also known as Lord Makino, is a villain from the Max Steel (2013 TV Series) and the creator of Ultralinks. He is a cybernetic being that has an Ultralink bonded to him, but it is permanent. He is the leader and ruler of a planet called, Planet Makino. Makino is the deadliest villain Max Steel has ever faced. A techno-organic life form from the stars, he is father and God to all Ultralinks. Makino is the most dangerous being in the universe and wants to take it over by absorbing every planet. Makino wants to devour Earth and possibly convert it into his second home planet, but he must first destroy man-kind with an Invasion of Ultralinks, which will take place in Season 2. Makino first appeared in Earth Under Siege Part Two. Makino is voiced by Michael Dobson.
Makino is the ruler and leader of the Ultralinks and Planet Makino. Most of his life is unknown, but he is an enemy of N-Tek. Makino also wants to make an Invasion of Ultralinks and want Earth as their second planet, only that he wants to first, take out the humans that live in Earth. It is said that Makino is an Ultralink Hunter if Titan did become the ruler of the planet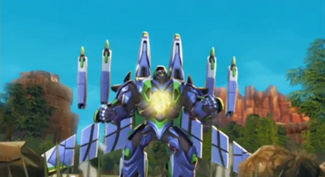 The Gallery of Makino can be see Here.
Makino can absorb things and make modes out of them, like the original Makino.
Makino looks like Megatron and Galvatron from Transformers.
Makino is the leader of all of the Ultralinks in Makino.
When Makino speaks, the Alphalink speaks at the same time.
Makino came to Earth sixteen years ago, which was the first Ultralink Invasion.
He fights Max Steel for the first time in Makino Strikes Part One.
Makino was defeated by Turbo Rocket Mode in Makino Strikes Part Two.