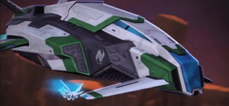 Lucille is the N-Tek Jump Jet of the N-Tek agent, Jefferson Smith. Lucille is very important to Jefferson Smith, and he loves her a lot, almost like someone and their car. Lucille has appeared along with Jefferson in a lot of episodes in the Max Steel (2013 TV Series). Lucille sometimes gets damaged, but is later fixed by N-Tek. She is used in some N-Tek missions, when Jefferson is included in the mission and/ or fight in the world. Lucille first appeared in Come Together Part One.
Ad blocker interference detected!
Wikia is a free-to-use site that makes money from advertising. We have a modified experience for viewers using ad blockers

Wikia is not accessible if you've made further modifications. Remove the custom ad blocker rule(s) and the page will load as expected.