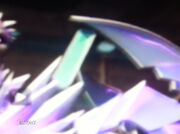 The
Harpy Eagle's DNA Sample
is a DNA from the
Package of Animals' DNA Samples
, which was revealed by 
Extroyer
. This DNA sample was going to be used by Extroyer to defeat 
Max Steel
, but then he refused to not. This DNA sample appeared in Driven.
Origins
When Vin and Dwayne stole a Package of Animals' DNA Samples, Extroyer uses it to defeat Max Steel. Then after he turned back to his normal form, he later wants to turn himself into another animal to defeat Max Steel.
Driven
In this episode, Extroyer's Henchmen, Vin and Dwayne, stole a package for Extroyer. Then it was a package with animals' DNA samples. Then after he turns into his normal form, he wants to defeat Max Steel. He looks in the package, and wants to use the Harpy eagle's DNA sample, but he refuses to not.
Trivia
This DNA sample was going to be used by Extroyer, but then he refused to not.
If Extroyer used this DNA sample, then it was going to be the first time Extroyer Extroys into a bird.
Ad blocker interference detected!
Wikia is a free-to-use site that makes money from advertising. We have a modified experience for viewers using ad blockers

Wikia is not accessible if you've made further modifications. Remove the custom ad blocker rule(s) and the page will load as expected.